Loopbased has released 12 new sound packs from its partners, including titles by Kryptic, Vanilla Groove Studios, Pulsed Records, and more.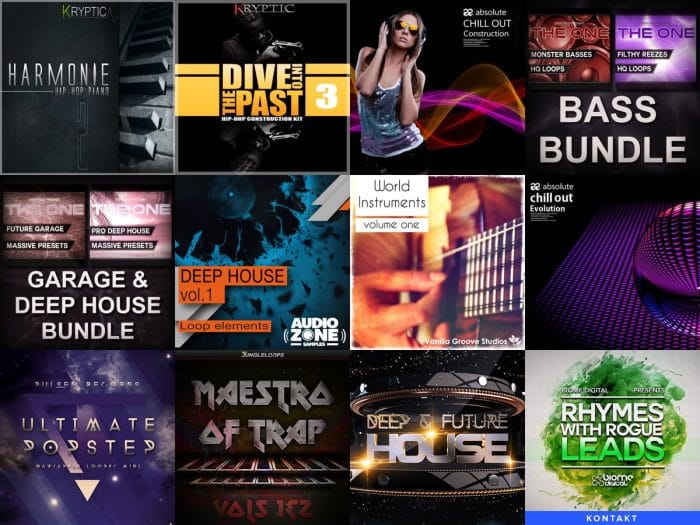 New packs at Loopbased
Deep & Future House is an amazing collection of multi-track loops by Pulsed Records. Cleverly engineered and ready to drop into any DAW, this huge product is a must-have for every Bass, Garage & Future House producer.
Absolute Chill Out – Absolute Chill Out continues the absolute series with ten construction kits aimed at producers of Chill Out, Down tempo and Lounge music.Huge beats,great bass lines and melodic movements.
Dive Into The Past 3 from Kryptic contains seven Hip Hop Construction Kits that include WAV, MIDI and stand-alone Reason 5.0 files to make your production process even easier.
THE ONE: Bass Bundle – This is the Bass Bundle, a bundle consisting of "THE ONE: Filthy Reeses" and "THE ONE: Monster Basses". This powerful bass library will take your dark bass sounds to the next level.
DEEP HOUSE – Loop Elements contains 50 High Quality and 100% Royalty Free Loops with an awesome Deep House flavour! Each Loop has been meticulously crafted to ensure that they will soar through your mix perfectly.
Rhymes With Rogue: Leads is a collection of 2,730 Moog hardware synth multi-samples plus hundreds more bonus files, each meticulously designed, recorded and edited to create highly playable expressive instruments.
World Instruments Vol 1 is here to give your tracks an ethnic edge with 96 loops recorded using a variety of world instruments including the cello, Estonian Bagpipe, Spanish Guitar, Bolivian Ronroco, Mandolin and the Estonian Kanell.
Maestro Of Trap Bundle from Jungle Loops brings you 16 chart-topping Trap Construction Kits inspired by artists like Fredo Santana, Lil Durk, Migos, and many others.
Harmonie 2 contains five Hip Hop Construction Kits that include WAV and MIDI files, with various piano melodies and a melancholic vibe accompanied by fine choral harmonies, violin, oboe and many other sounds and instruments.
Absolute Chill Out Evolution offers five construction kits to drive the genre in a different direction. Each Kit is recorded at 98 BPM and delivers all the essential elements of potential downtempo classics.
Ultimate Popstep is an awesome high quality product by Pulsed Records. Inspired by the likes of Zedd, Madeon, Seven Lions, Skrillex and more, this ridiculous cross-genre collection will blow the audiences minds across the globe.
THE ONE: Garage & Deep House Bundle, a combination of "THE ONE: Pro Deep House" and "THE ONE: Future Garage". With this bundle, you receive a mighty library, ready to be used in your Future Garage/House productions.
The packs are now available for purchase from Loopbased as a download.