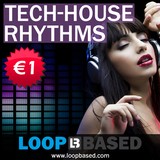 Loopbased has announced the release of Tech-House Rhythms, the first release of the brand new label and shop.
The same team behind the internationally acclaimed sound labels Beatluxe and Simplosive now introduces a brand-new sound label and shop – Loopbased.com.

We have been working for many months to create a one-stop sample shopping experience for you. In addition to all Beatluxe and Simplosive releases we are distributing select sound packs from other fellow producers and labels like Wildfunk, Quickmix Audio, R-Loops, Kick Back Samples, Artis Audio, Acid Records and more.

Loopbased is also a new label itself with sample packs from up and coming producers from all over the world. And as a time-limited launch offer you can buy our initial release for an unbeatable price: 150 Tech-House Rhythms for just € 1.