Loopmasters has presented its new cloud-connected Loopcloud application for browsing and managing your library of Loopmasters sounds, and effortlessly streaming and importing to your DAW.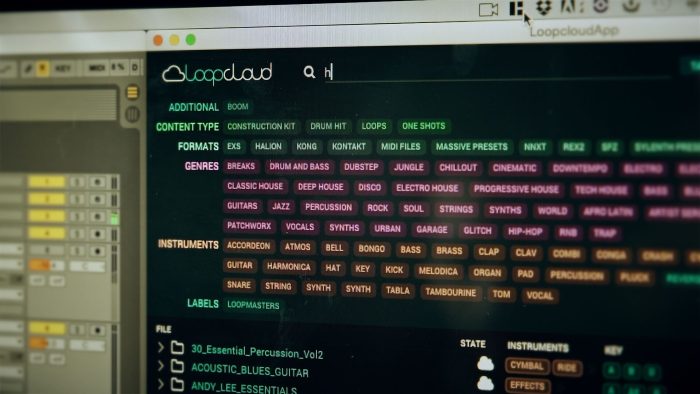 An industry first, Loopcloud is a brand new cloud-connected application for browsing and managing all your Loopmasters samples, MIDI files and presets. Bring them into your DAW via drag and drop or use the accompanying Loopcloud plugin, which plays everything back in perfect sync with your project. Sounds are searchable within Loopcloud by name, tempo, key and user-editable tags, and the intuitive, attractive interface lets you audition and download only the ones you need when you need them. With a single login, you can synchronise your library across multiple computers for organisation and tag editing.

Loopcloud will soon feature a store where you can preview and buy single sounds and presets from a library in excess of 5 millions samples – and will also come with 5GB of free cloud storage for your non-Loopmasters content, which is fully expandable through a range of subscription options.

Already a powerful, versatile hub for all your loops, one-shots and presets, Loopcloud also has a roadmap of planned updates bringing plenty of further features and functionality in the near future.

"Everyone at Loopmasters makes music, and it's long been our goal to unify our ever-expanding catalogue of samples and presets – currently totalling around 5 million sounds – in a bespoke app and seamlessly integrate it with the DAW itself. Loopcloud is the realisation of that goal, and we're immensely proud of it." Matt Pelling, Director
Loopcloud features
Developed by producers for producers.
An app for your unified Loopmasters library — Access and manage all your Loopmasters samples, MIDI files and presets in the cloud via the beautiful Loopcloud app for Mac and PC.
Find the sounds you want, instantly — Loopcloud understands advanced search commands and features comprehensive attribute tagging, including tempo, key and instrumentation.
Make you own tags — Create your own searchable parameters with User tags.
Stream previews — Audition samples directly from the cloud without eating up disk space.
Download only the samples you need and leave those you don't yet in the cloud. Drag-and-drop multiple samples straight to your DAW, desktop or file browser.
Plug your Loopmasters library into your DAW — Route tempo-synced sample previews to any DAW through the Loopcloud plugin, with adjustable loop length and manual pitchshifting.
Upload your non-Loopmasters content — 5GB of free cloud storage is included for free, which can be expanded to suit your requirements via a subscription account. (Coming Soon).
Browse 5 Million+ Pro Samples — Loopcloud will shortly add a store which will allow you to search over 5 million samples and presets, audition with your track in sync, and download only the new content that you need. (Coming Soon).
Get free stuff! — 1GB of free Loopmasters samples are yours when you sign up, with 500+ samples added to your library every month for free.
Reclaim hard disk space — Relax, safe in the knowledge that your Loopmasters content is securely stored and backed up in the cloud.
The Loopcloud software for Windows and Mac is now available for download from Loopmasters.
More information: Loopcloud