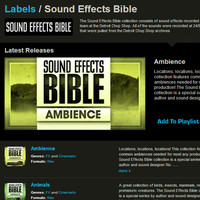 Loopmasters has announced the Sound Effects Bible collection, a series of sound fx sample libraries by Ric Viers.
The Sound Effects Bible collection consists of sound effects recorded by Ric Viers (author of the book The Sound Effects Bible) and his team at the Detroit Chop Shop. All of the sounds were recorded at 24/96KHz, along with a small selection of unique 16/44.1KHz sounds that were pulled from the Detroit Chop Shop archives
Available Sound Effects Bible titles
Ambience – Locations, locations, locations! This collection features common ambiences needed for most any production!
Animals – A great collection of birds, insects, mammals, reptiles and prehistoric creatures.
Cartoon – OL at these funny, but useful sound effects!
Emergency – From ambulance, police and fire truck sirens to hospitals and dentist office tools, this collection covers the medical and emergency industries.
Explosions – BANG! This is a dynamite collection of explosions, fireworks, grenades, flares and, of course, dynamite!
Fire – This is a too-hot-to-handle collection of fires, torches, flame whooshes and more!
Food – A niche collection of common food items, wrappers, seasonings, vegetables and snacks.
Footsteps – A comprehensive collection that includes several types of footwear on different surfaces with variations in pace.
Horror Production Elements – This is a specialized collection of production elements with a dark flavor.
Humans – From babies crying to coughs, sneezes, burps, farts and screams, this collection covers the most popular human sound effects.
The sample libraries are available to purchase starting at £17.95 GBP.
More information: Loopmasters / Sound Effects Bible