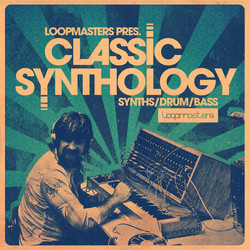 Loopmasters has announced the release of Classic Synthology, a 1GB collection of classic synthesizer sounds.
Classic Synthology from Loopmasters is a nostalgic trip back in time to the hot and sweaty cable strewn studios of yesteryear, when analogue synthesisers and rhythm machines resembling overgrown calculators carved out a whole new genre of music for the world to hear.

Recorded and produced by Harvey Summers at Broad Oak Studios, Classic Synthology takes its inspiration from many of the early electronic music pioneers including Vangelis, Kraftwork, Brian Eno, FSOL and Orbital to name but a few and is intended to be used by todays cutting edge soundsmiths looking for historical sounds from the analogue behemoths of the past.

This collection includes sounds of now legendary synths including Yamaha CS-80, Arp 2600, Minimoog, Moog Taurus Mk1, Korg MS20, Korg M1 combined with a select few modern analogue counterparts heavily processed through boutique vintage equipment including Neve and RCA pre amps, a classic, 70's Raindirk series III console, Eventide H3000 D/SX and a AMS DMX 15-80S for a truly authentic vintage sound.
The sample library costs £29.95 GBP. Individual parts are also sold separately.
More information: Loopmasters / Classic Synthology