Loopmasters has released Extreme Neuro Processing Racks for Ableton Live, a collection of 12 effect racks by Dan Larsson for Ableton Live.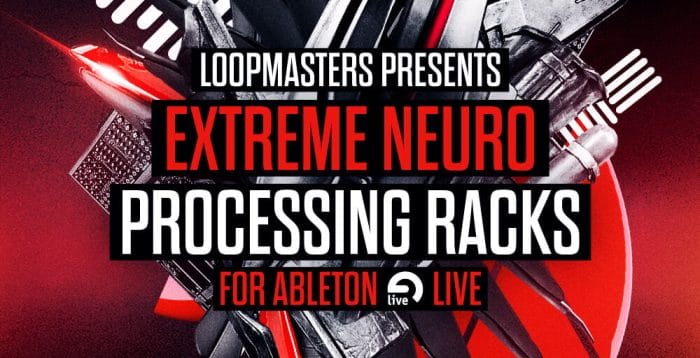 Prepare for the ultimate assault of Dark and Twisted Synth sounds inspired by artists like Noisia, Black Sun Empire, Bless, State Of Mind, Rido, N-Phect and Prolix.

Simply load one rack into your track, and play any sound though it. Think of this original sound as being in the eye of the storm. Seconds later you will hear it mutate and contort into a formidable tyrant, intent on an imminent sonic apocalypse.

These racks are designed to be used in isolation from your track – sampled then loaded into your main project. This is the most practical approach, as you will find the Extreme Signal Processing consumes more CPU than a normal plugin.

These racks can be fed all types of sounds, and you'll find that experimentation pays off. Try Drum Hits, Bass Sounds, Vocals, Chord Stabs or Pads – there is nothing that will escape the fury! Do not underestimate the power of these racks – due to the internal processing and feedback structure, they do occasionally make sounds of their own accord.
The Live pack is available for purchase for £9.95 GBP. Requires Live Suite 9.5 or higher.
More information: Loopmasters / Extreme Neuro Processing Racks for Ableton Live