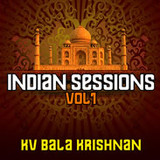 Loopmasters has released Indian Sessions Vol. 1 – KV Bala Krishnan, a sample library featuring the sounds of renowned Indian percussionist KV Bala Krishnan.
This is the first of a 2 part series which sees KV team up with local Indian musicians and vocalists to extract pure melodies, grooves and rhythms from Indian culture and traditional music, but with an eye on popular western tempos and time signatures in order to create a palette of sound which will work well when fused into modern genres.

This is truly an authentic collection of samples recorded and produced in india, which have been mastered centrally at Loopmasters studio to ensure maximum compatibility with all music applications and is presented in multiple formats for easy manipulation by you the producer.
Indian Sessions Vol. 1 – KV Bala Krishnan features
1GB Indian Samples.
591 Indian Sounds.
500+ Indian Loops.
56 Ready to play patches for all soft samplers.
Includes: 12 Bass Dholak Loops, 26 Dholak Loops, 15 Dukki Tarang Loops, 12 Finger Cymbal Loops, 20 Ghata Singari Loops, 4 Ghatam Pot Loops, 5 Percussion Loops, 8 Salangari Loops, 23 Shaker Loops, 54 Tabla Dholak Loops, 60 Tabla Ensemble Loops, 49 Tabla Loops, 20 Tambourine Loops, 4 triangle Loops, 5 Tudd Loops, 9 Urumi Loops, Hits from Bass Dholak, Tabla, Dukki Tarang, Ganjira, Ghata, Salangai, Sitar, Sweet Bells, Tudd, Urumi, 26 Ensemble Sitar Loops, 3 Sitar Jaala Loops, 35 Sitar Phrases, 6 Sitar Harp Loops, 60 Female Indian Vocal Samples, 60 Male Indian Vocal Samples.
Indian Sessions Vol. 1 is available to purchase for £29.95 GBP.
More information: Loopmasters / Indian Sessions Vol. 1 – KV Bala Krishnan