Loopmasters has released two new titles in their Artist Series sample libraries: Marshall Jefferson's House Generation and Harley & Muscle's Deep House Producer.
Marshall Jefferson – House Generation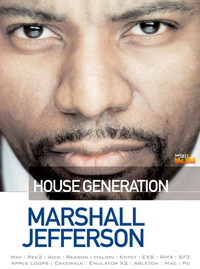 Marshall recruited the services of luminaries such as Byron Stingly and Paris Brightledge to record a great selection of classic House vocals, Chris 'Bam Bam' Westbrook recorded the guitars, Louie Louie played percussion, Ed Funk was on Drums, whilst Sherman Burks and Rob Crawford recorded the keyboard loops. Perhaps one of the biggest triumphs of this exclusive sample collection has to be the recruitment by Marshall of Orbert Davis from the Chicago Jazz Philharmonic, who was put in charge of capturing an awesome selection of live House Strings and Brass Sections for the project.
Marshall says:
When I first thought about doing a loops CD with Loopmasters I wanted one that had no throw away loops – and I honestly think every single loop on this CD is a hit component… This Collection is going to take you from Acid to Synth House to true live Philly style House and back to the Garage, then swing you back to the 90's and 2k styles.
Marshall Jefferson – House Generation features
1.2+GB of content including over 1,100 wav files, 450 Rex 2 samples and 63 patches.
More than 100 Drumloops, 50+ synth and real played bass parts, 40 guitar loops, 27 synth loops, 19 house brass loops, 27 string parts, 95 percussion loops, 20 vox loops, 33 piano loops, 60 drum hits, nearly 400 vocal samples, and much more.
Harley & Muscle – Deep House Producer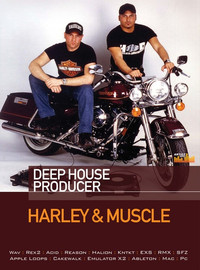 Harley & Muscle are two House Music artists living in Milan, northern Italy. From 1985, these young guys began to hear the first real House Music of the early 80's from Artists such as Farley "Jackmaster" Funk, Mr. Fingers, Tyree, all the DJ International label productions and the great house music coming out of Chicago, NYC and London.
William "Harley" & Flavio "Muscle" write:
We created this CD for all people who have a soul that understands what the real aim of 'House Music' is… "House is a feeling…" (Mr. Fingers, 1986) and this is why it became our main reason for life… It's a great pleasure to know that in this globe there will be many people using our keys, basslines or grooves to produce new Deep tracks that will spread our love for this kind of music through their hearts…
Harley & Muscle – Deep House Producer features
2+ GB of content including 472 Deep House wav files, 177 Rex 2 samples and 40 patches for Reason, Kontakt, Halion, EXS24, Stylus RMX, Cakewalk Rapture and Dimension (full DVD also includes a Reason Refill, Apple Loops, and patches for the Ableton Live Sampler).
50+ 4 bar Deep House drum loops, 42 bass lines, 9 lead Loops, 48 piano samples, 25 string loops, 8 SFX samples, around 200 single hit Deep House drum samples.
10 multi multi sampled House Piano and Rhodes ready to play with that Deep House flavour.
Both titles are available to download (shipping of DVD orders will commence Feb 1st) for £29.95 GBP each.
More information: Loopmasters