LSR Audio has announced the release of it intuitive compressor/expander plugin DynamicsDetail and SK_Dynamics, a new "Single Knob Series" dynamics effect plug-in.
DynamicsDetail measures two RMS levels with different averaging speeds. It compares the fast level with the slower one to detect attack and decay phases. Maximum compression (low attack and high sustain) tends to keep the output level close to the average level of the input sound.

SK_Dynamics is based on the algorithms of the DynamicsDetail plugin, and allows you to reduce or increase the dynamic range of your tracks with only one knob. The output level is automatically compensated according to the chosen compression level.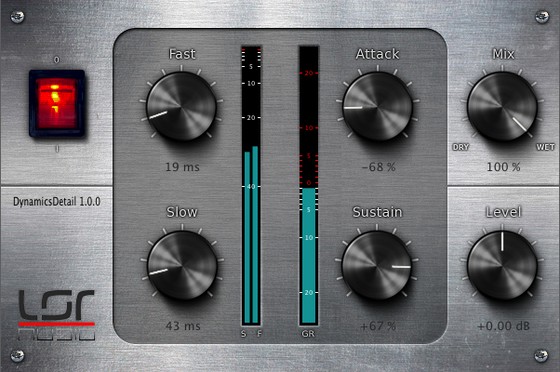 DynamicsDetail features
Original compression algorithm.
Reduce or amplify attacks.
Boost or attenuate sustain.
Mix control.
Master level (does not affect dry signal).
DynamicsDetail is available to purchase for 49 USD; SK_Dynamics costs $16 USD.
LSR Audio has also announced it has introduced reduced prices for its Vintage Dynamics plug-ins, and updated versions of its plug-ins are now available (including USB activation).
More information: LSR Audio