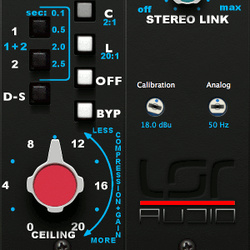 LSR Audio has announced the release of VLB525, a classic FET compressor effect plugin modeled after the API 525 feedback compressor.
The 525 compressor first appeared in the early 70's. It was integrated as a 500 module in famous american recording consoles. Over the years the 525 has become a favourite of many engineers in the recording industry, contributing its sound in numerous classic recordings.

The 525 is a character compressor that adds thickness and warmth to the signal. It is favoured on guitars, vocals, drums and bass. VLB525 further extends the hardware versatility with an adjustable attack time, and stereo link for stereo tracks or busses.
VLB525 features
Authentic hardware circuit / non-linear components emulation.
Peak detecting feedback compressor / limiter.
Threshold and make-up level.
Ceiling adjusts compression and compensates the level.
Gain reduction VU meter.
Compressor mode (2:1 ratio).
Limiter mode (20:1 ratio).
Off mode: signal goes through the output opamp and transformer directly without compression.
Bypass mode: true bypass.
4 release times: 0.1, 0.5, 2.0, 2.5 sec.
De-Ess function.
Adjustable attack.
Mono or stereo, with adjustable stereo link.
Adjustable internal simulation level.
Optional noise floor and hum modeling.
Retina displays compatible.
The VLB525 for Windows and Mac (VST/AU/RTAS/AAX) is available to purchase for the introductory price of $129 USD until October 15th, 2013 (regular $159 USD).