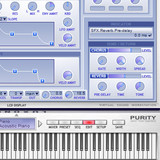 Luxonix has released updates to Purity and LFX-1310.
Purity is a next generation of digital musical instrument workstation and PCM sound module software.
PURITY is designed to realize and surpass the hardware musical instrument workstation perfectly on computer-based music production environments offering higher sound quality and more usability.
LFX-1310 is a free plug-in multi-effector including 24 types of algorithm and 3 serial slots.
This freeware is the stand-alone version of Effecting Module of Ravity(S) & Ravity(R). Every algorithm realizes the very effect you have on your mind, and is fully optimized for low CPU load.
Changes in Purity v1.2.4 / LFX-1310 v1.4
(PC) Windows 7 supported (32-bit).
(MAC) Mac OS X 10.6 Snow Leopard supported (32-bit, 10.4 Tiger or higher required).
(MAC) now ready for Apple Logic 9.