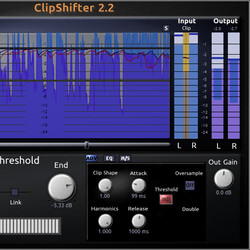 LVC-Audio has released version 2.2 of ClipShifter, a wave-shaping audio plugin that functions like a clipping-style limiter.
ClipShifter can function as a static clipping effect, but it can also respond to the transient qualities of the incoming signal. The clipping threshold can be set to either rise or fall as the level of audio changes.

ClipShifter provides enough user controls to be useful in all mixing stages: from distorting basses and drums, to maximizing mix buses, and warming-up overall mixes. The sonic characteristics of the clipping distortion can be altered from hard, brickwall-style clipping, to softer saturation with compression.
Changes in ClipShifter v2.2
New separate L/R threshold tracking control.
New L/R clipping meter and display of L/R threshold data in waveform view.
Revised knob images and increased knob precision.
Added finer gearing of knobs when holding shift or alt keys.
Improved color display of waveform history.
Improved control layout.
Paid features:

New EQ controls with selectable gain options and independent clipping processing.
New Mid/Side controls with independent clipping processing.
Improved high frequency response with oversampling.
Processing improvement when oversampling is engaged.
Better Double processing with Mid/Side processing.
ClipShifter for Windows and Mac (VST/AU) is available to download at no cost. The paid version (priced $11.76 USD) adds oversampling with double processing, multiband frequency controls, and mid/side processing.
More information: LVC-Audio / ClipShifter