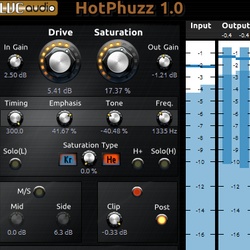 LVC-Audio has announced the release of HotPhuzz, a saturation designer plug-in for Windows and Mac.
It is a creative tool that specializes in the creation of distinct saturation tones. HotPhuzz uses a multiband distortion process to create vintage, modern, and unique saturation effects.

Although HotPhuzz can be pushed into over distortion, it excels at creating more moderate saturation sounds. You can call the sounds whatever terms you like, but it still sounds good.
HotPhuzz features
Saturation creation tool with infinite combinations of saturation sounds.
Four distinct saturation algorithms with three extra modes for enabling even-order distortion (7 modes total).
Blend control to mix between two separate saturation algorithms.
Multiband saturation design.
Stereo controls, including balance, stereo width, and mid/side processing option.
Adjustable output clipper with selectable routing configuration.
Selectable oversampling (linear phase 2x, 4x, and 8x oversampling).
User-friendly graphical input and output metering with VU-style, PPM-style, and loudness meters.
HotPhuzz for Windows and Mac (VST/AU) is available for $25 USD.