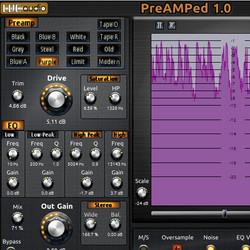 LVC-Audio has released public beta version 1.0.1 of its PreAMPed audio plugin that recreates many of the qualities of analog preamplifiers.
The purpose of the release is to ensure that as many bugs are fixed before releasing the final version of 1.0.1.

The beta release contains many new features, as well as numerous bug fixes and enhancements.
Changes in PreAMPed v1.0.1 beta
Added bypass buttons for preamp, saturation, EQs, and stereo controls.
Added 2x, 4x, and 6x oversampling with linear-phase filtering and latency compensation for mix control.
Added A->B comparison ability to each knob (double-click will return the knob to the previous value, and right-clicking a knob will set a new previous value).
Made demo bypass less annoying (shorter duration of bypassed sound, and longer intervals between bypassed sound).
Improved waveform display.
Fixed VST3 format error.
Fixed Clip LED from remaining stuck on when knob was adjusted.
Fixed overlapping text (increased GUI size).
Improved preamp buttons.
Improved knob position indicators on small knobs.
PreAMPed for Windows and Mac (VST/AU) is available to purchase for $47.70 USD. The demo version of the public beta is also available to download.
LVC-Audio is offering a chance to win a free license of PreAMPed to those who are willing to test the beta release.
If you find a bug or have a suggestion, please submit a quick message using the following beta contact form. If you don't find a bug, just have a suggestion, or want to enter to win a free plugin, you can use the same beta contact form.

LVC-Audio will select several names from the list to receive free licenses of PreAMPed. Although any bug submission or suggestion is welcome, multiple entries will not increase the odds of winning a free license (i.e., one entry per person). Licenses will be awarded shortly after January 1.
More information: LVC-Audio / PreAMPed beta