M-Audio has announced the Songwriter Software Suite for its M-Track II Series audio interfaces.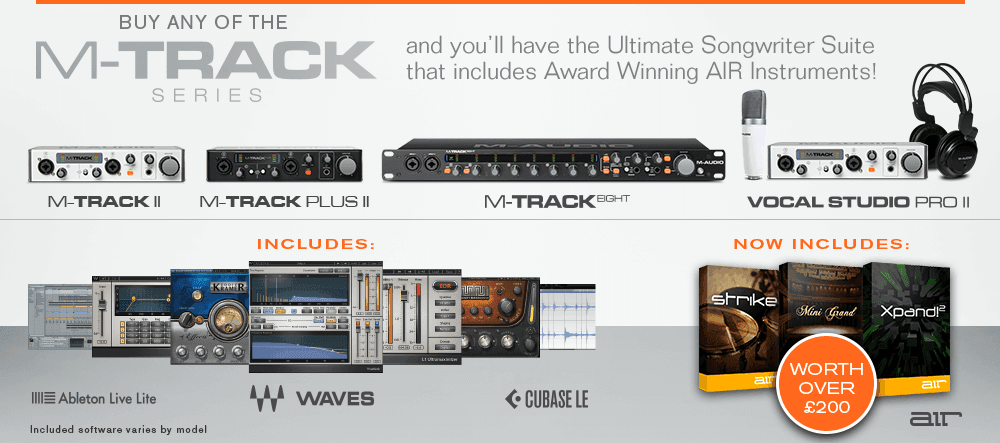 Now purchasers of the M-Track II, M-Track Plus II, M-Track Eight and Vocal Studio Pro II can expand their creative possibilities with award-winning virtual instruments including Strike 2, Mini Grand and Xpand!2 from the innovative, Germany-based software developer Air Music Technology, alongside the existing software bundles including Waves, Ableton Live Lite and Cubase LE.

Songwriter Suite
With M-Audio's Songwriter Suite, musicians and composers benefit from an expansive virtual instrument collection worth over 300€ / £200, granting them direct access to a critically-acclaimed sonic palette that guarantees heightened creative inspiration from the "get-go".

Spearheading the software suite lineup is Air Music Technology's Strike 2, a dynamic drum and arranger instrument featuring a world-class sample library and hyper-realistic performance engine, that grants access to 19 customisable kits recorded at the legendary Blackbird Studios in Nashville, Tennessee. Whether it's rock drums or syncopated Acid Jazz fusion polyrhythms, Strike 2's premium, sought-after samples enables musicians to easily create customised patterns with an ultra-intuitive, user-friendly Style Editor.

Air Music Technology's Mini Grand is also included in the Songwriter Suite, a powerful virtual instrument comprising seven distinct piano sounds, expertly tailored to accommodate a broad range of musical styles and production needs. Combining premium, production-ready piano samples, 7 selectable piano models, innovative re-pedaling technology (for realistic string resonance behavior) and built-in room simulation, Mini Grand provides songwriters with an adaptable in-demand sonicarsenal, perfect for performance and recording scenarios alike.

Completing the Songwriter Suite is Air Music Technology's Xpand!2, a multi-timbral workstation as versatile as it is feature packed. Using everything from Wavetable to FM Synthesis to sample playback, Xpand!2 presents thousands of production ready, ready-to-play patches suitable for a wide variety of genres.

M-Track II Series
M-Audio's M-Track II family gives songwriters and musicians of any level the ability to participate in the world of computer-based recording with an intuitive, easy-to-use interface. It boasts 24-bit studioquality audio performance, along with a pro-grade rugged all-metal chassis, high-headroom pre-amps and class-leading audio performance on the inputs. M-Track II and M-Track Plus II provide singersongwriters with the ultimate solution for recording two separate instruments simultaneously, thanks to the inclusion of a pair Mic/Line combo inputs with a dedicated headphone output offering zero latency monitoring. When combined with the Songwriter Software Suite and the existing M-Track Software bundle—including Waves Audiotrack, Waves Eddie Kramer Effect Channel, Waves TrueVerb, Albeton Live Lite and Cubase LE (M-Track Plus II only)—users enjoy the core tools to create, record and produce without limitation.

The M-Track II series is also accompanied by Vocal Studio Pro II, an all-in-one recording and production package comprising an M-Track II audio interface, a large diaphragm condenser microphone and sonically-superior studio headphones. Additionally, Vocal Studio Pro II provides singers, songwriters, musicians and producers with a mic clip, tabletop stand, an XLR Mic cable, the Waves plugin pack and Ableton Live Lite to deliver a comprehensive, pro-grade path to recording, composing and producing. M-Track 8 completes the series line-up, offering bands a complete, prograde recording solution combining eight Octane Preamps with XLR/1/4" combo inputs, 10 separate outputs, 2 headphone outputs and an expanded software suite that builds upon that bundled with the M-Track II and M-Track Plus II, to include Cubase LE and the in-demand Waves L1 Ultramaximizer and Waves Manny Marroquin Delay.

"We are immensely excited about the inclusion of the Songwriter Suite with these M-Track interfaces", said J.C. Sutherland, M-Audio Product Manager. "The full-featured specification of the M-Track interfaces, alongside the included software bundle, guarantees immediate, impressive results that far exceed what the modest price-points suggest".
The M-Track interfaces including the Songwriter Software Suite are available for MSRP:
M-Track II £69.99
M-Track Plus II £89.99
M-Track Eight £259.99
Vocal Studio Pro II £139.99
More information: M-Audio / M-Track II