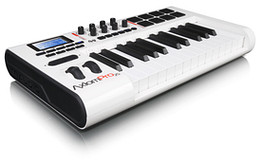 M-Audio has announced it is now shipping the Axiom Pro 25 and Axiom Pro 61, two new advanced USB MIDI keyboard controllers.
The new Axiom® Pro 25 and Axiom Pro 61 MIDI controller keyboards feature M-Audio's proprietary HyperControl™ technology, which automatically maps and continuously syncs the units' LCD and MIDI-assignable controllers to commonly accessed parameters in digital audio workstations (DAW), including Pro Tools®, Cubase, Logic, Live and Reason, as well as software instruments.

The Axiom Pro keyboards are the first-ever MIDI controllers that can send QWERTY commands, allowing users to access DAW keyboard shortcuts and menu commands directly from their Axiom Pro system. Now users can zoom, open and close windows, navigate between song markers, edit automation and much more—without touching the computer's keyboard and mouse.
The Axiom Pro is now available in three versions:
Axiom Pro 25, $499.95 USD.
Axiom Pro 49, $599.95 USD.
Axiom Pro 61, $699.95 USD.
Visit M-Audio for more information.