M-Audio has announced the immediate availability of its CTRL49, a 49-key USB/MIDI smart controller with full-color screen.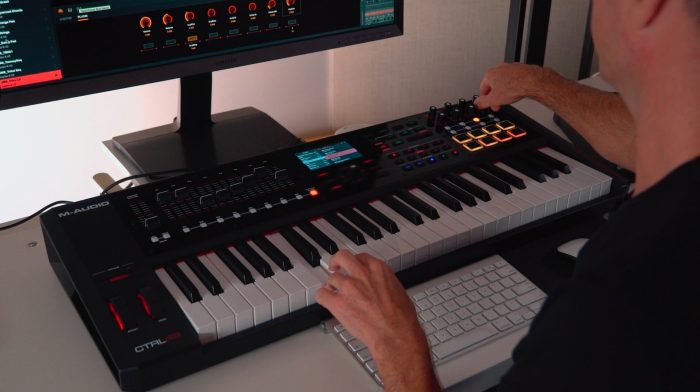 This new keyboard provides advanced control of virtual instruments and DAWs via a full-colour high-resolution 4.3-inch screen, seamless integration with Virtual Instrument Player software, a 49-key semi-weighted keybed and an in-demand cluster of hardware controls organized in a familiar, workstation-style layout.

CTRL49 empowers users with an ultra-rapid workflow courtesy of a performance-driven, in-demand control specification: Trigger samples, one-shots, melodics and loops using eight velocity- and pressure-sensitive multicolour-backlit pads. Take command of VST plugins or DAW parameters using eight 360-degree fully-assignable encoders; seamlessly map CTRL49 to a DAW with 11 Mackie Control/HUI multicolour-backlit switches and nine Mackie Control/HUI faders. With CTRL49, a rapid assimilation into existing setups is guaranteed, providing the ultimate platform to drive the creative process via expanded control capability.

Included with CTRL49 is the revolutionary Virtual Instrument Player (VIP) v2.1 software. At its core, VIP features an intelligent patch browser that integrates sound patches from the user's collection of VST virtual instruments and effects, enabling them to select, control, play and layer those plugins directly from their VIP-enabled keyboard. VIP auto-maps CTRL49's controls to the selected plugin, and displays critical parameters directly on the full-colour display for a natural, familiar 1:1 workstation-style experience.

Producers will appreciate VIP's facilities for setlist generation, key zone splitting, layering of up to 8 instruments per VIP instance, virtual effect stacks, expansive custom mapping capabilities, and support for any VST instrument or effect plugin. With VIP, users can run as many instances of the Virtual Instrument Player as their computer permits and operates as a VSTi, AU, VST 32 or AAX plugin, granting unrestricted access to compatible VSTs in virtually any DAW, such as Pro Tools, Logic Pro X and Ableton Live.

"The CTRL49 is a game-changer for serious producers," said Walter Skorupski, Product Manager for M-Audio. "Now they can access their entire virtual instrument and effect library right from their keyboard, without ever being distracted by a computer, which makes the creative/performance process smoother than ever before. Working together, the CTRL49 and VIP unlock your VSTs and enables them to function like actual instruments. Once you get used to this, there's no going back."
CTRL49 features
Integrated 4.3-inch high-resolution full-colour screen with dedicated interface buttons.
Screen provides 1:1, real-time feedback of plugin parameters.
Includes Virtual Instrument Player software—load, play and control any VST plugin.
Custom 49-key M-Audio semi-weighted keybed with aftertouch.
9 faders and 8 buttons for instant and seamless control of your DAW.
8 performance-ready 360-degree knobs.
8 velocity- and pressure-sensitive drum pads with RGB illumination.
Dedicated pad bank, transport control, octave, and performance buttons.
Roll mode, time division, pattern arpeggiator and tap tempo buttons.
Expression pedal and footswitch inputs; 5-Pin MIDI IN/OUT.
Includes software: Ableton Live Lite, AIR Creative FX Collection, AIR Vacuum Pro, AIR Loom, AIR Hybrid 3, AIR Xpand!2, AIR Velvet, AIR Transfuser and SONiVOX Eighty Eight Ensemble.
CTRL49 is available immediately and ships with an MSRP of £329.99 GBP / $449 USD.