M-Audio has introduced its new Delta Bolt audio interface and the M40/M50 monitoring headphones at the NAMM show.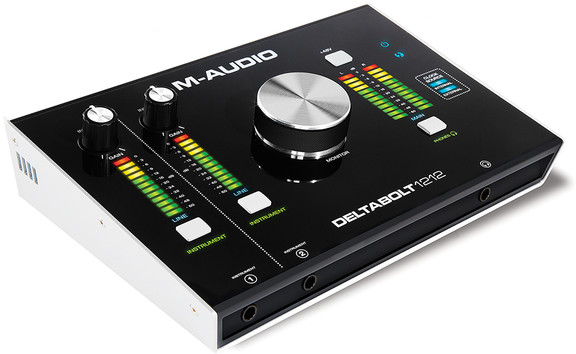 Deltabolt was created from the ground up to be a Thunderbolt-compatible interface, unlike many less sophisticated competitors, for whom Thunderbolt usability is an afterthought grafted onto an older platform.

Recognizing the need for a high-quality audio interface that works with the super-fast Thunderbolt connection, M-Audio's Deltabolt 1212 provides absolutely pristine audio recording quality by virtue of its proprietary Octane-X mic preamps. Deltabolt 1212's superior preamps mean that recordings and bi-directional data transfers processed through the Delta Bolt 1212 have far better sound quality than previous audio interfaces, an invaluable benefit for users to whom ultimate audio quality is paramount.

Deltabolt's output DACs are 32-bit, giving Deltabolt another sonic advantage—the ability to operate at 32-bit/192kHz through the Thunderbolt link, compared to conventional competitive units that are limited to 24-bit/96kHz.
Deltabolt 1212 will ship Q3 with an MSRP of £299.99 GBP.
The M40 and M50 are two new monitoring headphones models.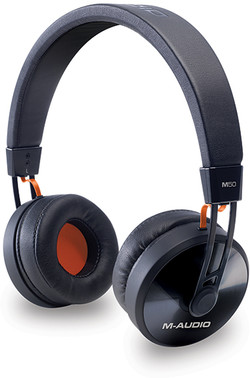 These new models both offer an extremely high level of acoustic performance and noise isolation, making them ideal for the individual looking for a monitor-quality headphone suitable for long studio mixdown sessions, DJ use or critical recreational audio listening.

The M50 Over-Ear Monitoring Headphones feature powerful 50mm drivers for outstanding performance that is totally unexpected at their modest price. They feature a comfortable over-the-ear design for great noise isolation, which is ideal for long hours in the studio monitoring mixdown tracks. With their wide-ranging 28–20kHz frequency response, the M50 headphones deliver the detail and precision needed for every musical style. The leather cushioning on the flexible headband and ear cups provides a fatigue-free listening experience for even the longest-lasting, most demanding sessions. The detachable cable is 6 ft. (1.8m) long and includes a ¼-inch adapter for compatibility with all equipment.

The M40 On-Ear Monitoring Headphones offer much of the performance and user-friendly features of the M50, but at a slightly lower cost. The M40 utilizes highly capable 40mm drivers that deliver an authoritative frequency response of 36-20kHz for great sound on any program material. Like the M50, the M40 also has comfortable leather cushioning on its flexible headband and a 6 ft. (1.8m) detachable cable.
The M40 and M50 will be available in January 2015, price at £39.99 GBP and £49.99 GBP, respectively.
More information: M-Audio