Plugin Alliance has announced the launch of the Mäag Audio Magnum-K, a new Brainworx modeled compressor effect plugin that is fully endorsed and approved by Mäag Audio.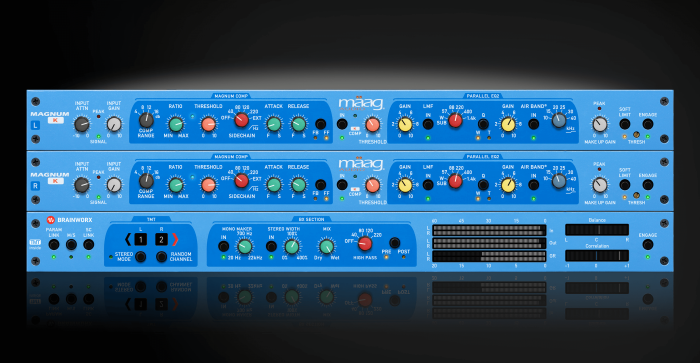 The dual compressor helps quieter sonic signatures become as big as you want them to be while simultaneously reigning in those louder, more dominant tones.
The original MAGNUM-K™ hardware is a single-channel Compressor built to complement the audio engineer's craft. It is comprised of two serial compressor sections (MAGNUM COMP and K COMP), a very musical Parallel EQ (with LMF and Mäag's signature AIR BAND®), plus a Soft-Clip (limiter).

In cooperation with Brainworx this design was turned into a convincing plugin, whereas the concept was taken to the next level. BX added L/R and M/S Stereo capabilities, injected 20 different, analog channels utilizing their patent-pending TMT (Tolerance Modeling Technology) and several convenient plugin-only features like M/S Stereo Width, Mono-Maker etc.

Whether putting the finishing touches on a Master Buss or making a vocal sound bigger than life without taking your head off; the MAGNUM-K will help elevate your craft.
Mäag Magnum-K features
2 compressor sections, Magnum Comp and K Comp.
Musical-sounding parallel EQ with LMF and Mäag's signature Air Band.
Soft Limiter.
Faithfully modelled, endorsed and approved by Mäag Audio.
Stereo version in addition to the original mono version.
DRY/WET parameter for parallel mix.
20 different, analog TMT channels.
M/S mode inclusive Solo M and Solo S.
The Mäag Magnum-K plugin is on sale for the intro price of $199 USD (regular $299 USD). Use coupon code maagnum-iNtrO-129 at checkout to get it for only $129 USD. Offer expires February 3rd, 2019.
More information: Plugin Alliance