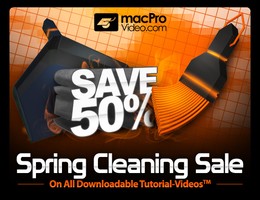 macProVideo.com has announced its "Spring Cleaning Sale", a limited time promotion in which you can save 50% on all Downloadable Tutorial-Videos.
Spring has sprung around the world – it's time to clean some videos off our servers! For 5 days only, you can save 50% off the HD Download versions of all macProVideo.com tutorials using this coupon code:

Click the link above to add the coupon "13Spring50" to your cart.

With summer just around the corner, there's no better time than now to learn new video, photo, and audio/music skills. Get prepared for your holiday videos now – visit macProVideo.com today!
The sale ends April 30th, 2013.
More information: macProVideo.com