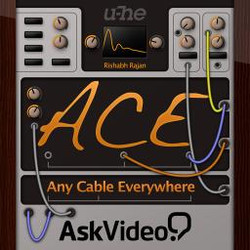 macProVideo.com has launched a video course for u-he ACE "Any Cable Everywhere", the virtual semi-modular synthesizer instrument for Windows and Mac.
If an analog modular had sex with a synth plugin, u-he ACE would be the offspring. Learn how to virtually patch this cool plugin with our ever-cool trainer and synth expert, Rishabh Rajan.

Every once in a while, a synth plugin comes along that we feel compelled to bring to your attention – even if it's a bit obscure: That's u-he ACE! This unique synth – whose acronym ACE stands for Any Cable Everywhere – is the sonic tweaker's dream come true.

In this course (which assumes a bit of synth knowledge), you explore every inch of this plugin. You learn all about patching and the multitude of possibilities that this kind of open-ended synth architecture provides for the creative sound designer.

With a patch cable-based synth you ARE the circuit designer AND the sound designer rolled into one. So get ready to learn and dig into u-he ACE with the amazing Rishabh Rajan. Soon, you'll be making sonic landscapes that every synth and synthesist only hear in their electronic dreams!
The course is now available to macProVideo subscribers. A HD Download costs $19.50 USD.
More information: macProVideo / u-he ACE course