Madrona Labs has released version 1.2 of Kaivo, a patchable physical modeling synthesizer instrument for Windows and Mac.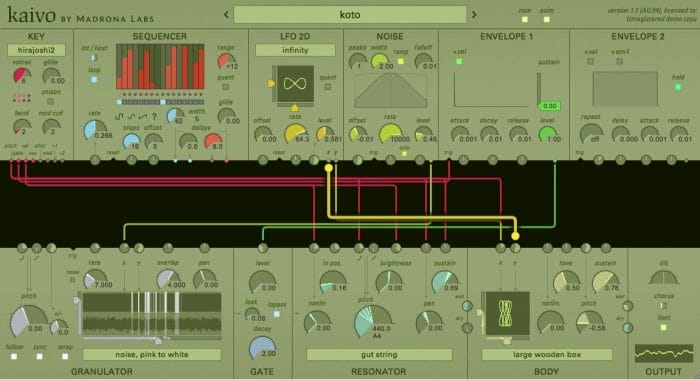 This version brings performance improvements in both audio rendering and graphics, as well as some changes for usability. Compatibility with the MPE format used by the Madrona Labs Soundplane, Roger Linn Designs Linnstrument, and other expressive new controllers is also added.
Changes in Kaivo v1.2
Added multiple disk selector to audio file import dialog.
Fixed granulator pitch errors.
Granulator samples now loaded as needed, speeding startup time.
Granulator optimized with SSE instructions.
Fix body model sound blowup with certain extreme settings.
Increased resolution of granulator pitch envelope.
Improve UI responsiveness under heavy load.
MPE (Multichannel Polyphonic Expresion) support.
Improved Soundplane compatibility with all patches. (requires Soundplane 1.3 or higher).
New protocol switching UI (MIDI / MPE / OSC) under settings menu.
Fixed an issue where automation would not play before a note was received.
Improved voice stealing algorithm.
Optimized drawing on Mac OS.
Kaivo for Windows and Mac (VST/AU) is available for purchase for $129 USD.
More information: Madrona Labs / Kaivo