Madrona Labs has announced a Winter Sale, offering a 50% discount on its Aalto and Kaivo synthesizer plug-ins for a limited time.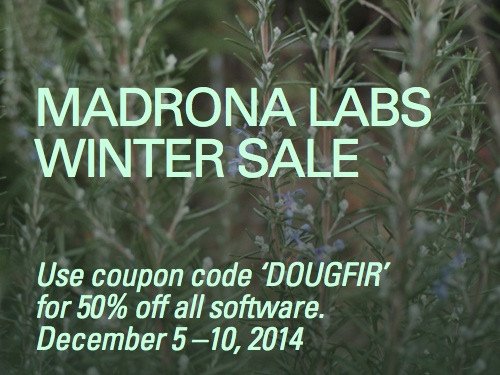 Greetings! I'm writing to announce the Madrona Labs five-day winter sale, starting now. From now until December 10, all of our software is 50% off. Now is a great time to get everyone's favorite patchable software synths for yourself or a friend. To get the discount, use the coupon code 'dougfir' on any product page, just above the 'Buy Now' button.

If you would like to give someone an Aalto or Kaivo license as a gift, it's easy. Just buy the software in the usual way, but enter your friend's first and last name instead of yours when you make the Madrona Labs account. Then you can gift your friend the account name and password. Your friend can log in, download the software and change the account email to his or her very own.
The sale ends December 10th, 2014.
More information: Madrona Labs