Magix has announced the release of Sound Forge Audio Studio 12, an update to the audio editor and recording software that brings a new look, new functionality, new edit modes, new plugins, new meters, and more.
Version 12 takes SOUND FORGE Audio Studio to a whole new level supplying everything you need to record, edit, enhance, and deliver high-resolution audio.

The perfect tool to digitize, repair, and restore LP records and tapes, create podcasts, master audio, burn CDs, and render to all the popular audio formats for streaming on the web or playback on portable media players.

"Throughout the development cycle of this new version of SOUND FORGE Audio Studio, the engineering team has kept their focus on the phrase 'Define the edge'", said Gary Rebholz from SOUND FORGE. "Our goal: take the existing audio production powerhouse to the next level with cutting-edge tools and processes. We think you're going to love Sound Forge Audio Studio 12."
Sound Forge Audio Studio 12 features
64-bit-Architecture
Built on a 64-bit platform to supply more editing power, more processing power, and a more powerful workflow.
Recording workflow
The updated and redesigned recording window offers easy access to all the settings and controls you need to achieve the perfect high-resolution recording.
Open and append command
An easy and fast way to assemble tracks for a CD. Select a file or group of files to append and they are automatically added to the project with CD track markers.
Non-destructive editing modes

Slice Edit: Enables you to continue to tweak your edit even after you've made your cut.
Soft Cut: Creates automatic, user-adjustable crossfades with each edit to guarantee smooth transitions between cuts with no pops or clicks.

Spectral cleaning
Perform frequency-based noise removal. Visually identify frequencies of an offending noise such as a chair squeak or cough in your recording, then use the spectral cleaning tool to select and remove the frequencies that make up those sounds.
Vinyl recording and restoration workflow
The new workflow makes it easy to record vinyl LPs and tapes, remove crackle, pops, and hiss and burn to an audio CD or burn a set of audio files to a data CD or DVD in popular formats such as MP3, WMA, Ogg Vorbis, FLAC, or AAC.
Visualization window
Presents several ways to analyze and track audio output including Peak meters, Phase Oscilloscope, Correlation meter, Direction meter, Spectroscope, Spectrogram, Bit meter, Oscilloscope, and Tuner.
Includes Ozone Elements 7 from iZotope, a $129.00 value
A mastering plug-in with a set of 75 professionally crafted presets, along with macro controls to fine tune the EQ and Compression to achieve full, rich, and loud final masters.
Repair and restoration tools

DeClicker/DeCrackler: Automatically detect and remove clicks and crackle from vinyl recordings or other noisy environments.
DeClipper: Restore and recover analog o rdigital material with clipping artifacts.
DeEsser: Remove sibilance with presets for male and female vocals.
DeHisser: Easily clean up background hiss with presets for hiss behind vocals, cassette tape hiss, analog tape hiss, and more.
DeNoiser: Reduces unwanted steady-state noise like that created by air-conditioning, equipment hum, and amplifier hiss.

Elastic Audio Editor
Tune vocals to a pitch-perfect performance with precise control over pitch.
Support for popular video formats
Open popular video formats to enhance and repair the audio using the included filters, effects, and noise reduction tools.
Sound Forge Audio Studio 12 is available for $59.99 USD.
Also released is Vegas Pro 15, the latest version of the video and audio editing software.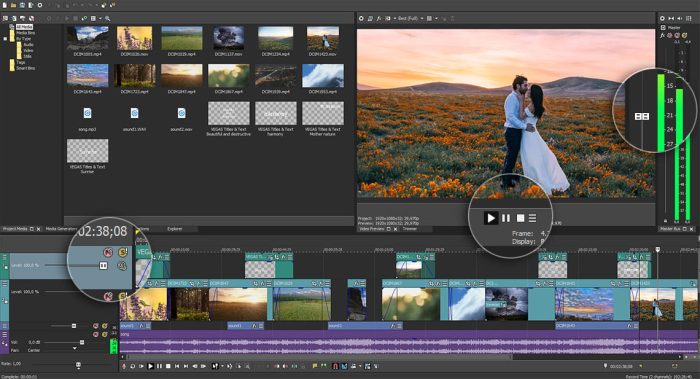 Filled with new features both inside and out to nurture your creativity and fit perfectly with your unique workflow.

An innovative, modern look, unsurpassed customization options, new plug-ins, new hardware acceleration, and new workflow and color enhancements–all to help you work faster, more efficiently, and more creatively.
Changes in Vegas Pro 15
A new MAGIX AVC/AAC codec significantly accelerates encoding on machines that utilize Intel Quick Sync Video (QSV) technology.
A new MAGIX AVC/AAC codec significantly accelerates encoding on machines equipped with modern NVIDIA graphics card GPU technology.
The user can now select from the list of attributes of a copied timeline clip event to specify which attributes will be pasted into a target event.
ACES 1.0 support enable users to work with the expanded color spaces and dynamic range of modern cameras.
More efficient handling of AVC files on the timeline through Intel QSV technology.
Picture-in-picture OFX plug-in enables the user to perform size and position adjustments of video at any of the four effects levels (including track and event) through parameter adjustment controls and direct interaction with the Video Preview window.
Crop OFX plug-in enables the user to quickly crop out portions of a video at any of the four effects levels (including track and event) through parameter adjustment controls and direct interaction with the Video Preview window.
The user can specify which track header buttons and controls appear on tracks and set these (separate for audio and video tracks) as project defaults for all new tracks in the current and new projects. Controls that have been hidden can be accessed through a new "hamburger button" menu.
LUT Filter OFX plug-in enables the user to apply LUTs to their project at any of the four supported FX levels (event, track, media, and video bus).
Redesigned timeline clip events now contain headers to hold important information and buttons and can be customized through the hamburger button/menu system.
The user can specify which controls appear in the transport area of both the Trimmer Window and the Video Preview window as project defaults for the current and new projects. Controls that have been hidden can be accessed through a new "hamburger button" menu.
A simple "one-click" option creates a freeze frame on all selected events touched by the timeline cursor.
Users can specify one of four options for the shading of the VEGAS Pro interface ranging from very bright to a dark interface.
Users can define the amount (strength) of color they want shown in their buttons.
Modern controls enable logical docking and undocking of windows and maximizing windows within a dock.
A user-friendly and intuitive Render As dialog box makes it easy to understand and specify render options.
The Share Online option now provides direct render-and-upload operations for YouTube, FaceBook, and Vimeo.
Optimized default user layout to reduce visual clutter.
Non-selected timeline clip events are now the same color as the corresponding track header while selected events are white. This (while directly opposite previous behavior) reduces visual "clutter" and the harsh appearance of events, particularly in large projects.
New layout option enables user to switch back to the VEGAS Pro 14 default layout, including revealing all buttons in the hamburger menu system.
The default Pan type has been changed to Constant Power which is the most logical and expected type.
Audio notification alerts you when your render is complete for all format types.
Vegas Pro 15 is available now with prices starting at $399 USD.
More information: Magix