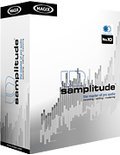 Magix has released version 10.2 of digital audio workstation Sequoia and audio editor Samplitude.
Version 10.2 offers further improvements as well as latest optimizations and bugfixes for all Sequoia 10 / Samplitude 10 versions
Sequoia's Crossfade Editor and Clipstore get some improvements. The FLAC format is now supported and video codecs have been updated. The changes also include improvements to the MIDI Editor, Dithering, Spectral Cleaning, Take Composer, FFT Filter, Folder Tracks and more.
The changelog has detailed information on what's new.
Visit Magix for more information.