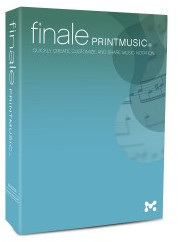 MakeMusic has announced the release of Finale PrintMusic 2014, an updated version of the notation software for Windows and Mac.
Finale PrintMusic is music notation software designed for educators, worship directors, performing musicians, composers and arrangers who don't require the most advanced features in Finale.

PrintMusic is easy to use and fun to learn. Quickly create orchestrations of up to 24 staves, extract parts, hear your music play back, and print beautiful sheet music.
Changes in Finale PrintMusic 2014
PrintMusic's Score Manager provides instant access to how staves look and playback, making it easy, for example, to change a staff from Alto Sax to Horn in F.
A fresh New Interface including an updated, modern look to PrintMusic's mixer, playback controls and palettes (which now lock on Macs, too).
Automatic Range Checking offers instant visual feedback when notes are written out of the range of beginner, intermediate or advanced players.
Notation Improvements include easily hidden staves and refined placement of rests and accidentals when music appears in multiple layers.
Beat-Assigned Smart Shapes, including hairpins and trills, automatically attach to a desired "beat" and snap into place.
PrintMusic's New File Format empowers musicians to share music back and forth with users of Finale 2014 and 2012 files, and offers even more flexibility for tomorrow.
Under the hood, PrintMusic's Mac OS X Support has been updated. Visible benefits include full screen mode, pinch zoom, drag-scrolling, text entry via voice dictation and basic Retina support.
Additional enhancements include mid-measure clefs, Unicode text support & entry, import/export of PDF graphics, Finale Lyrics font, scanning improvements and much more.
Finale PrintMusic 2014 is available for $119.95 USD. Upgrades from previous versions are also available.
More information: MakeMusic / Finale PrintMusic 2014