Sinevibes has released Malfunction II, a big update to its "circuit-bent filter" Audio Unit plugin for Mac.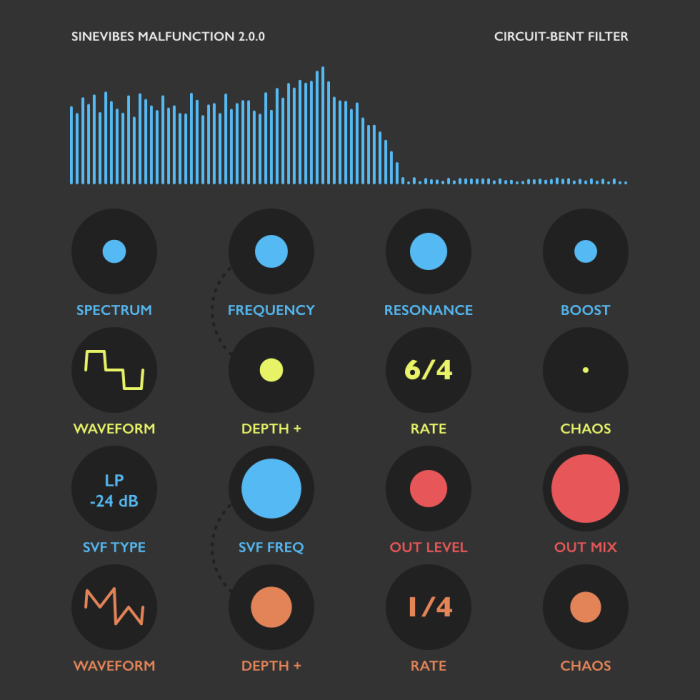 Malfunction II is a completely new product that has been redesigned inside and out.
It includes all-new hardware-accelerated user interface graphics, a built-in gate to prevent endless self-oscillation, and two freshly developed modulation generators with new "broken triangle" and "broken saw" waveforms. Version 2 also offers much improved computational efficiency with 2.5x reduced processor load.
Malfunction is a filter with intentionally broken connections and erroneous math that produces very special, hissy and screaming distortion. To tame this dramatic effect the plugin includes a low-pass pre-filter with a booster, as well as an output gate followed by a multi-mode filter.

Malfunction also has two highly versatile tempo-synchronized modulation generators routed into the circuit-bent and the output filters for intricate morphing and pulsations: they feature many different waveforms including our special "broken triangle" and "staircase". Plus, these modulators also offer variable chaos control which gradually adds random, never-repeating accents on each individual waveform cycle.
Malfunction II features
Unique "circuit-bent" filter algorithm producing thick, hissy and screaming distortion.
Multi-mode state-variable filter with 8 algorithms for detailed output spectrum shaping.
Two modulation generators with 10 waveforms and variable chaos.
Transport sync with support for tempo and time signature changes.
Color-coded controls with lightly animated transitions.
Fully hardware-accelerated rendering with support for Retina screen resolution.
Malfunction II for macOS 10.6 or later (AU) is available from Plugin Boutique for $29 USD.
More information: Sinevibes Malfunction II