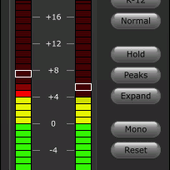 Martin Zuther has released version 1.21 of K-Meter, a freeware effect for metering and monitoring audio levels.
Implementation of a K-System meter according to Bob Katz' specifications.
Changes in K-Meter v1.21
Wave files and instructions for validation of K-Meter.
Complete re-validation of K-Meter and corresponding fixes.
Moved from premake v4.2 to v4.3.
Generation of Visual C++ project files using premake4.
K-Meter is available as a freeware effect released under the GPL license. A VST version for Windows and Linux is available to download, as well as a standalone version for Linux.
More information: Martin Zuther