Martinic has announced the release of the Kee Bass, a free virtual instrument that emulates the Rheem Kee Bass monophonic string bass simulator.
The physical modeled instrument uses no samples and only only weighs 2.5MB.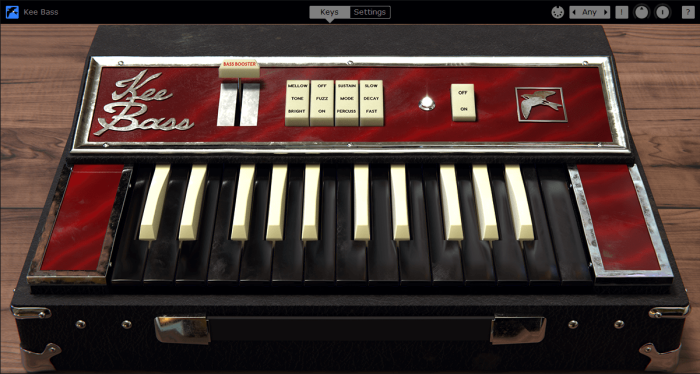 Bring some groovy, bassy vibes back from the '60s and straight into your music with our faithful emulation of one of the first monophonic string bass simulators… the Rheem Kee Bass!

Our Kee Bass VST/AU plugin is based on the original electronic schema and an actual physical Kee Bass. Firstly, we modeled the instrument precisely (no sampling at all), then we added a few modern features to make it more versatile and unique.
Kee Bass features
Bass Fuzz sound built in.
Percussion Fast decay.
Percussion Slow decay.
Sustain.
Bright-Mellow option on all sounds.
2 Full Octave Keyboard.
Modeled Solid State Electronic Circuitry.
Level adjust.
Adjustable 25-note tuning.
Extended 128 MIDI note range.
Velocity-sensitive.
All settings MIDI learnable.
Poly mode.
Low/high/last note priority.
Attack/decay adjust.
Low pass filter with resonance.
Filter LFO/envelope modulation.
Wide range of presets.
Fine tuning.
Transpose/octave shift.
The Kee Bass plugin is available for download in VST and AU formats for Windows and Mac.
More information: Martinic