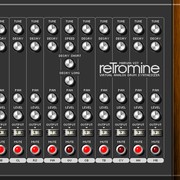 Marvin Pavilion has released version 0.1 of reTromine, a free drum synthesizer plug-in for Windows.
reTromine is a 'Roland CR-78'-style drum synthesizer.
reTromine features
15 sounds: Bass drum, Snare drum, Low conga, Low/High Bongo, Claves, Rimshot, Maracas, Short/Long guiro, Cowbell, Tambourine, Cymbal, Hihat, Metal beat.
9 outputs.
MIDI CC support.
Automation support.
The HS9 hi-hat cymbal sampler plug-in was updated to version 1.1.
Changes in HS9 v1.1
Envelope curve changes.
Remove lofi effect.
Fix some issues.
Marvin Pavilion plug-ins are available as freeware for Windows (VST).
More information: Marvin Pavilion