Native Instruments has released software version 2.4.5 for its Maschine family of production tools.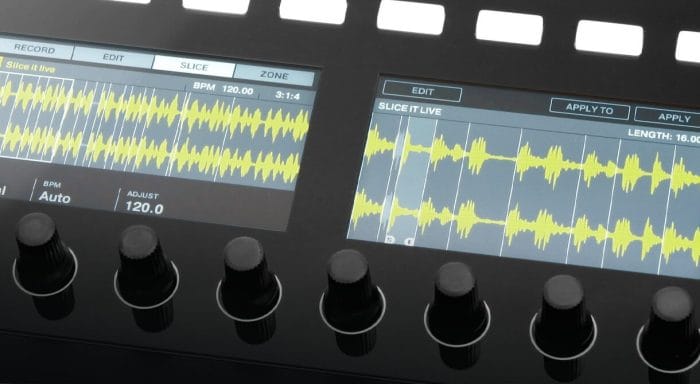 The MASCHINE 2.4.5 software provides a new set of features for working with samples within the MASCHINE software. Additional improvements include new ways to work within the Scene paradigm in MASCHINE, new options for audio export, default plug-in settings and more. The MASCHINE 2.4.5 software update is free for all owners of the MASCHINE 2 software and is available now via Service Center.

MASCHINE's latest update includes a new option for working with samples in Manual slicing mode. Users can now insert slice points on MASCHINE's pads while the sample is playing – a fast and intuitive way to begin the process of turning a sampled piece of audio into an original composition. A new Variable Scene Length feature allows Scene lengths to be set independent of the length of patterns, making polyrhythms easier to create and freeing producers from extending a pattern just to fit the scene it resides in. Internal plug-in settings are now savable as defaults, accelerating workflow by instantly loading with popular settings defined by the user.

In addition to these primary improvements, MASCHINE 2.4.5 also features the ability to export Scenes as audio, to export audio as lossless .AIFF files and browsing by product groups – especially useful when searching for third-party plug-ins using the Native Kontrol Standard® (NKS) file format.
Changes in Maschine 2.4.5
Manual slicing mode now allows you to insert slice points on MASCHINE's pads while the sample is playing.
Variable scene length independent of the length of your patterns.
'Save As Default' function lets you save your favorite plug-in settings as defaults.
Export audio in AIFF format.
Scene Export: Split by Scenes lets you export individual scenes for use as audio loops.
Automatically export the entire song range without setting a loop range first.
Eraser Tool now deletes a divider between slices instead of merging two slices.
Browse by product group (category /vendor) via MASCHINE STUDIO.
Remove all slices at once directly from the MASCHINE hardware to start again from scratch.
Directly access audio and MIDI settings from the regular preferences dialog.
"Pattern Grid" renamed to "Arrange Grid" and moved below the Group List in the software.
In the Slicer, "Manual" mode is now the default.
Added a field in preferences for custom names for export.
"Slice" Button renamed to "Split" and turns into "Slice" when a slice is played back.
Added a Loop control to the Transport in the software to enable and disable Loop playback.
Browse directly from KOMPLETE KONTROL S-Series keyboard using the new Hardware Browse mode.
The update is now available from the NI Service Center.
More information: Native Instruments / Maschine