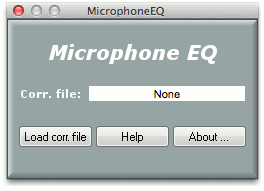 MathAudio has announced the release of Microphone EQ, a VST effect plug-in for Windows and Mac.
MathAudio Microphone EQ is a VST effect plug-in which corrects the frequency responses of microphones. In fact, you can take your medium quality microphone and transform it into an acoustic replica of a high quality microphone. The process of replication takes a few minutes. After that the sound of your medium quality microphone will be very similar to the sound of your high quality microphone.
Microphone EQ features
Converts the sound of any microphone into the sound of any other microphone.
Includes a measurement program which allows one to replicate any microphone.
Ensures high accuracy of the replication.
Automatically compares microphones and generates correction algorithms. Averaged models of microphones are not used because every microphone is unique and requires a unique correction algorithm.
Converts a pair of identical (same model) microphones into a matched pair of microphones for stereo recording.
Ensures verifiable quality replication. Turn your medium quality microphone into a replica of a high quality microphone and compare the sounds immediately.
Corrects both amplitude and phase components of the microphone frequency response.
Supports high sample rates.
Applies 64-bit signal path throughout.
Applies a patented method of microphone correction which ensures maximum similarity between the sound of the reference microphone and the sound of the target microphone.
Microphone EQ for Windows and Mac (VST) costs $69.95 USD. Microphone EQ replaces Microphone Corrector, which has been discontinued. The owners of the Microphone Corrector licenses are eligible for a free upgrade.
More information: MathAudio