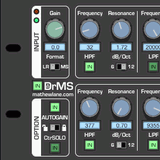 Mathew Lane has released version 3.0 of DrMS, a spatial processor plug-in for Windows and Mac.
DrMS is now a true native VST/AU/RTAS plugin for OSX and Windows that no longer requires the Pluggo Runtime shell. V3 is compatible with all major DAWs supporting VST, AudioUnit or RTAS, including the latest versions of Cubase, Nuendo, Logic, Live and ProTools, both on Mac and PC.

It also includes numerous improvements and new features over version 2, such as the newly implemented mastering grade filters, the addition of the Feedback circuit for reverb creation and special effects, the improved GUI with value displays and the inclusion of example preset settings.
DrMS v3.0 features
Native VST/AU/RTAS plugin for OSX & Windows, supports all major DAWs.
MS encoding & decoding.
Spatial audio processing: Zoom in, add Depth, change Width.
New mastering grade filters.
Resonant HPF, LPF and Delay on each of the four processing sections.
New Feedback circuit for reverb creation and special effects.
Full mono compatibility.
Autogain circuit for easy level matched A/B comparision.
Improved GUI with value displays.
Smart MCU control surface layout.
Wide range of applications for mixing, mastering and post production, going from simple MS encoding/decoding, over stereo field and depth enhancement, to fixing mono compatibility issues and more.
Presets developed by Dylan '3D' Dresdow (Black Eyed Peas, Michael Jackson, Usher) and Emre Ramazanoglu (Shakira, Alexander McQueen, Lou Rhodes).
Easy installation and authorization with choice of using iLok or Challenge/Response.
DrMS v3.0 is available to purchase for 99 EUR ex. VAT. Current DrMS users can upgrade to DrMS v3.0 for 25 EUR ex. VAT until the end of 2009.
More information: Mathew Lane