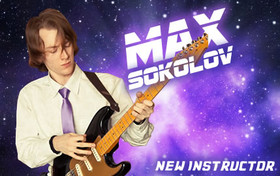 Guitar Master Class has announced that talented young guitarist Max Sokolov has joined the international guitar learning site as a new instructor, introducing himself with his first lesson: Melodic Rock Soloing.
At only 22 years old, Max already has an impressive musician's biography based on his music college education, and experience as a studio and band musician. As a Guitarist, Max has gained great control over tone and melody and as such has won several competitions in Russia as well as taking 6th place in The French Guitar contest in 2012.

His style is varied, covering jazz/funk and also soul/hip-hop with some tasteful jazz influences and his lessons will add definite value for GMC students working on their legato and fusion guitar chops. An interesting ingredient in his playing style is his stated love for death metal bands which he claims as an early influence.
More information: Guitar Master Class / Max Sokolov