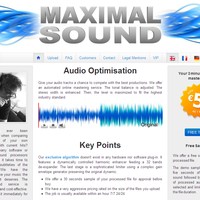 MaximalSound has announced a new VIP mastering service that is available to its loyal customers.
After creation, a VIP account can be fed with units purchased with a volume discount. The VIP offers vary by the amount of purchased units and offered bonuses.

Other benefits:

Using a VIP account allows simultaneous uploads.
A single custom page monitors the jobs progress. Downloads and purchases are also done from this custom page. No e-mail exchanges are required any more.
The random demo sample is extended to 60 seconds.

The algorithm has been refined to enhance the low frequencies impact while improving both fidelity and perceived volume. This treatment is shared by the regular and VIP services. The turnaround is less than one hour for both services. The render farm has been extended (x4) to ensure the growing crowd of users the best possible service.
More information: MaximalSound