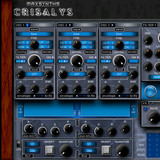 MaxSynth has announced Crisalys, a virtual synthesizer instrument for Windows.
The previous mail announced (with a strange and cryptic video) that something is happening…
I've worked very hard on it in the last weeks and unexpectedly the project "road map" is at a very good point: the core elements of the new instrument are finished, and everything seems to proceed very well! So I think it's time to unveil more details about the new project.
Crisalys features
3 Oscillators with 18 custom waveforms designed specifically for this synth.
Built in frequency, ring and cross modulation per oscillator.
Filter routing option (OSC to filter 1 or 2).
Tuning and pitch bend options per oscillator (different settings for each OSC).
2 multi filters with 8 different filter types including custom designed filter models.
Built-in modulation options per filter driven by internal filter LFOs.
Modulation section: 4 LFOs (with sync, wave selection, wave invert and the same "quantize" function available on MaxSynths' LFO Filter), 2 AUX envelopes, 2 step sequencers.
Modulation matrix with 5 assignable sources and 16 fixed destinations.
FX section: flanger, delay compressor, reverb.
Arpegiator with classic arp types (up, down, up+down, etc.) and custom patterns options.
Custom audio engine to guarantee high quality audio with a moderate CPU load.
Two different skins provided.
Crisalys is scheduled for release between December 2010 and January 2011.
More information: MaxSynths