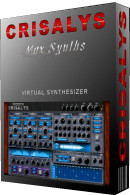 MaxSynths has announced a "Crazy Bargain" for Crisalys, a virtual synthesizer instrument for Windows.
Until the end of August 2011 our flagship synthesizer Crisalys VSTi will be available at the incredible price of €19.90 instead of €89.90 (worth a €70 discount!)

Crisalys VSTi is a powerful instrument featuring three oscillators driven by custom waveforms designed specifically to grant top quality sound in any situation and suitable for a wide range of musical styles.

This is a time limited crazy bargain: learn more about Crisalys by visiting our website.
Visit MaxSynths for more information.