MaxSynths has announced the release of DR-910, a drum machine instrument inspired by one of the most known percussive instruments that massively helped to define the sound of modern electronic music.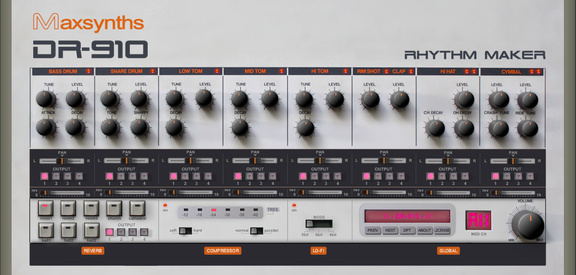 The instrument itself does not need presentations: used by artists like Moby, Fatboy Slim, The Prodigy, Jean Michel Jarre, The Chemical Brothers, Faithless and many many others, the TR-909 quickly became one of the most classic pieces of gear in the electronic musician's arsenal.

DR-910 VSTi is a faithful reproduction of the original device: each sound section (bassdrum, snare drum, etc.) has been developed to sound and act as similar as possible to the original instrument. The plugin includes also some extra features not available in the hardware version: a reverb unit with independent send controls for each sound source, a compressor tailored to work with drum sounds (based on the same engine of MaxSynths DSP-1) and a Lo-Fi FX processor.
DR-910 features
Faithful emulation of the original sound.
Four stereo outputs.
Mute and pan options for each instrument.
Independent send level to the built-in reverb unit for each instrument.
Built-in compressor featuring IDP cicrcuit.
Built-in reverb unit routable to output 1-4.
Lo-Fi FX with three independent modes.
Full MIDI support through MIDI CC#.
Behringer BCR-2000 custom template.
Easy to operate.
Low CPU usage.
DR-910 for Windows (VST) is available for purchase for 24.99 EUR.
Visit MaxSynths for more information.