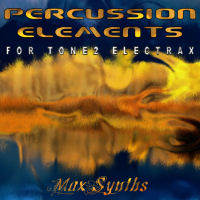 MaxSynths has announced the release of Percussion Elements, a soundset for the ElectraX software synthesizer by Tone2.
Taking advantage of ElectraX' multi layers concept and extensive sample management options, this bank includes tempo synced loops with variations (using the modulation wheel), 11 drum kits and a collection of 266 original samples for a total of 60MB recorded from various sources (ethnic percussions, custom instruments, hardware synthesizers, etc.). Each patch can be used as is or layered together with other presets to create new rhytmic sequences.
Percussion Elements features
100 Drum Patches.
11 Drum Kits.
Tempo synced drum sequences.
266 original percussive samples.
60mb of custom waveforms.
Realtime modulation.
Normalized volume.
Percussion Elements is available to purchase for 24.90 EUR.
Visit MaxSynths for more information.