McDSP has announced the release of three new plug-ins: the 6020 Ultimate EQ, the SPC Serial/Parallel Compressor and the AE400 Active EQ for the Pro Tools AAX Native and AAX DSP formats.
6020 Ultimate EQ – Equalization for Any Situation
The 6020 Ultimate EQ is a collection of ten equalizer models inspired from classic, rare, and modern equalizers over the last four decades.
Using the popular module format and leveraging McDSP's 15+ years of audio plug-in development, the 6020 modules offer a range of EQ configurations designed to compliment the compressor modules found in the 6030 Ultimate Compressor. Whatever your style, the 6020 has a custom made equalizer just right for any application.
SPC2000 – Powerful Multi-Stage Compression
Each compression in the SPC2000 uses the award winning McDSP CompressorBank algorithms and controls giving the user complete control of dynamic compression.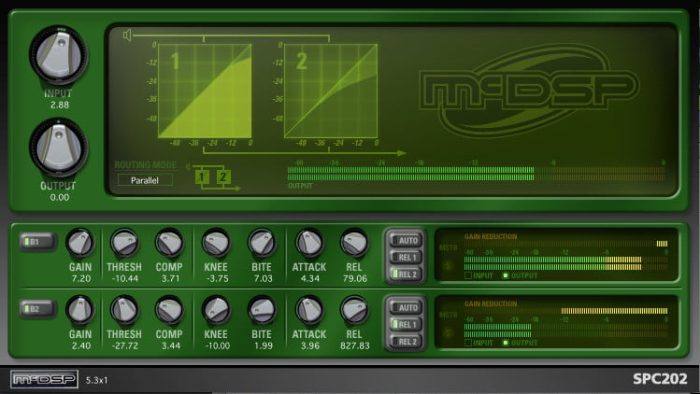 The SPC2000 Serial / Parallel Compressor takes the power and flexibility of the now classic CompressorBank plug-in by McDSP, and offers two, three, and four band configurations with serial and parallel routing combinations unlike any dynamic processor. Couple this routing capability with the ability to emulate any other compressor, and its clear the SPC2000 is a serious audio tool.
AE400 Active EQ – Flexible Dynamic Equalization
The AE400 is an advanced active equalizer suitable for music production, post production, and live sound.
The AE400 is made up of four bands of fixed and active equalization. Each band is completely overlapping with all other bands and has its own Q (bandwidth), fixed gain, and active gain controls. A key filter for each band allows the active gain response to be as selective or broad as needed, based on the Q (bandwidth) control. Each band can use the input signal or selected side chain signal to trigger the active EQ response. For complex material, or subtle audio touch ups, the AE400 can get the job done.
The 6020 Ultimate EQ is available to purchase for $199 USD (Native)/$299 USD (HD), SPC2000 is $149 USD (Native)/$249 USD (HD), AE400 Active EQ costs $199 USD (Native)/$299 USD (HD).
McDSP has also launched the Everything Pack, a bundle of all McDSP plug-ins.
For those who need everything, the McDSP Everything Pack is the ticket. The McDSP Everything Pack bundle includes EVERY plug-in from the Emerald, Classic and Retro Pack bundles, and the latest three new plug-ins from McDSP.

Equalizers, compressors, virtual tape machines, multi-band dynamic processors, reverbs, de-essers, noise filters, 'futz' tools, and the new 6020 Ultimate EQ, AE400 Active EQ, and SPC2000 Serial / Parallel compressor are all included.
The Everything Pack costs $1,995 USD (Native) / $3,295 USD (HD).
More information: McDSP