Plugin Boutique has announced a March Sale on McDSP's audio effect plugins and bundles, offering discounts of up to 75% off regular for a limited time.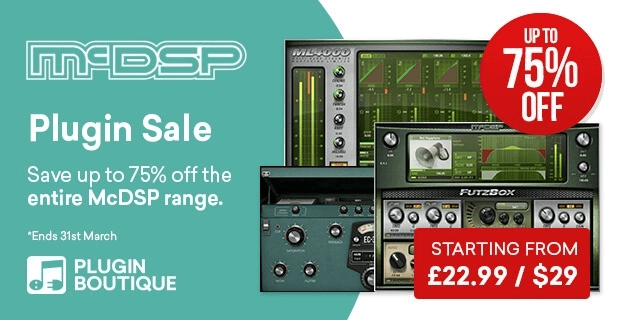 The sale includes HD and Native versions of popular plugins such as the NR800 Noise Reduction Processor, EC-300 Echo Collection and 6060 Ultimate Module Collection.
The 6060 Ultimate Module Collection contains the largest collection of processing options of any module-based plug-in available. The 6060 includes over 30 unique modules for EQ, compression, saturation, distortion, specialized filtering, dynamic range expansion, gating, and more.

Custom modules include bass optimized biasing for the larger than life low end, transformer-based tone shaping circuits for high end shine, tape simulation, de-essing and new EQ and compression designs.
Prices start from £22.99 GBP / $29 USD. The offer expires April 1st, 2020.
More information: McDSP