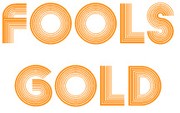 Mecha Audio has announced Fools Gold, a collection of classic sounding 60's and 70's funk and soul breaks.
570 custom made and carefully processed vintage breakbeats. All royalty free for use in your Hip-Hop, Drum and Bass, Electronic and Dance music tracks. Nowhere else will you find such a large collection of seemingly rare, unheard of drum breaks. It's as if you have found a collection of old vinyl with untapped drumming goodness.

Fools Gold comes in two formats, both of which you can download after purchase, The first is a standard folder with all the breaks in .wav and .rex2 files, the second is a Reason Refill, containing the same .wav and .rex2 files, pick whichever suits you or take both.
Fools Gold features
A new collection of vintage sounding breakbeats.
Hand crafted with various drum kits.
Processed with a variety of hardware and software effects.
285 wav and 285 rex2 authentic sounding breaks.
The sample pack costs $30 USD.
Visit Mecha Audio for more information.