Vintage King LA will welcome Manley Labs President and co-founder EveAnna Manley, who will host the official launch of the CORE, a new and innovative channel strip that combines the best of Manley's acclaimed technologies in a powerful, easy-to-use design.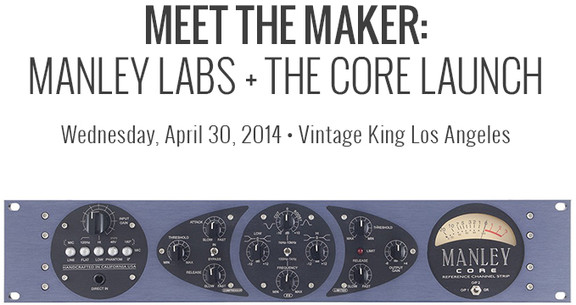 Starting with the same highly acclaimed Class A Preamp circuitry found in the Manley VOXBOX®, Dual Mono, and Mono Microphone Preamplifiers, the CORE integrates Manley's unique ELOP®-based compression, limiting, and equalization circuitries into a powerful integrated package that delivers Manley's inimitable sonic signature, at a surprisingly affordable price. The CORE is designed for today's musicians, with an intuitive yet feature-rich front panel that allows you to concentrate on your performance without being submerged in a sea of knobs and switches.

EveAnna Manley remarked, "Manley Labs and Vintage King both have roots deep in the pro audio community, and I can't think of a better place to hold the official launch of the CORE than here at Vintage King LA."

"Vintage King has always been proud to work with the industry's finest, most innovative companies, and Manley Labs is no exception," added Vintage King's Tom Menrath. "The CORE is the latest chapter in the legacy of one of pro audio's finest, and we're happy to welcome EveAnna and company on this auspicious occasion."
The official launch will take place on Wednesday, April 30, 2014, at 7:00 PM at Vintage King's Los Angeles offices, 1176 West Sunset Boulevard, Los Angeles, CA 90012. In attendance will be many of professional audio's elite engineers, producers, and studio owners.
More information: Vintage King