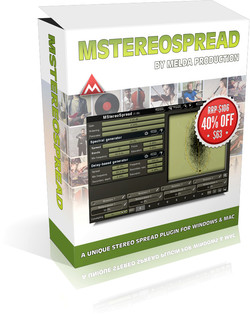 VST Buzz has launched a promotion for the MStereoSpread effect plug-in by MeldaProduction.
MStereoSpread is a stereo enhancer plugin that will help to make your tracks sound wide and tight, yet remain natural sounding. When added to a track, it can push the stereo field wider providing more realism and a more bigger sound overall.

This isn't just any stereo spread plugin though. It uses a unique algorithm to provide a natural yet tight sounding level of stereo width and comes with an integrated stereo scope to give you an immediate view of the stereo width. This plugin will genuinely bring your tracks alive and add more depth and a bigger sound to them – we love it!
The plugin is available to purchase at VST Buzz for $63 USD until November 5th, 2013 (regular $106 USD).
More information: VST Buzz