Audio Strasse has released Melodic Underground Techno, a sample pack with a collection of sounds from 1980s drum machines such as Roland's TR-808 and TR-909 and melodic content sourced from synthesizers.
With this pack Audio Strasse creates a modern concept of melodic techno by keeping the freedom of the underground creative expression and appreciation of artistic individuality as opposed to the highly formulaic composition of commercial music and to conform to the current mainstream trends.
A Melody is a linear succession of musical tones that the listener perceives as a single entity. In its most literal sense, a melody is a combination of pitch and rhythm, while more figuratively, the term can include successions of other musical elements such as tonal colour.

In Techno music the melodies composed by the sophisticated arpeggiators and last-generation sequencers give the sound a unique and unmistakable soul.
Melodic Underground Techno features
261 wav files (24-bit).
108 MIDI files.
36 Bass Loops.
50 Drum Loops.
30 Efx.
40 Melodic Loops.
32 Percussion Loops.
24 Underground Motions.
11 Underground Pads.
38 Single Hits.
Melodic Underground Techno is available from Loopmasters for £17.95 GBP.
Several other sample packs from the Audio Strasse catalog have recently been released at Loopmasters as well.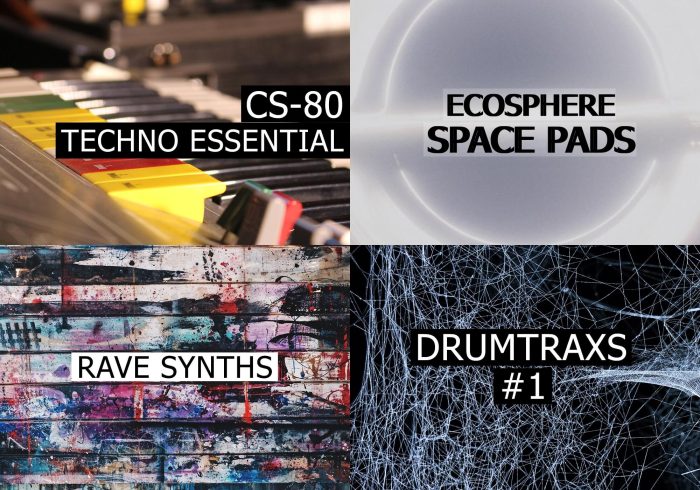 Echosphere Space Pads comes with 200MB of unique and exclusive collection of ambient sounds composed with sophisticated instruments by a famous LA music composer.
With Rave Synths Audio Strasse revisits the early 1980s sounds of Rave. This small pack offers 30 synth sounds (and MIDIs) for just £6.95 GBP.
The Yamaha CS-80 polyphonic analog synthesizer is the star in CS-80 Techno Essential, a collection of sounds from the vintage synth sequenced with a techno touch.
And if you need some more drum samples, there's Drumtrax #1. This pack features an exclusive collection of drum and percussion sounds, taking influence from the sound of New Jersey. It comes with an analog touch that brings back the feeling of the 80s, when punk rock and hardcore played an important role in the American music scene.
More information: Loopmasters / Audio Strasse