Mercuriall Audio has announced the release of its new plugin Euphoria, an audio effect based on an iconic tube guitar amplifier Bogner Ecstasy 101B, including an optional Cameron factory mod.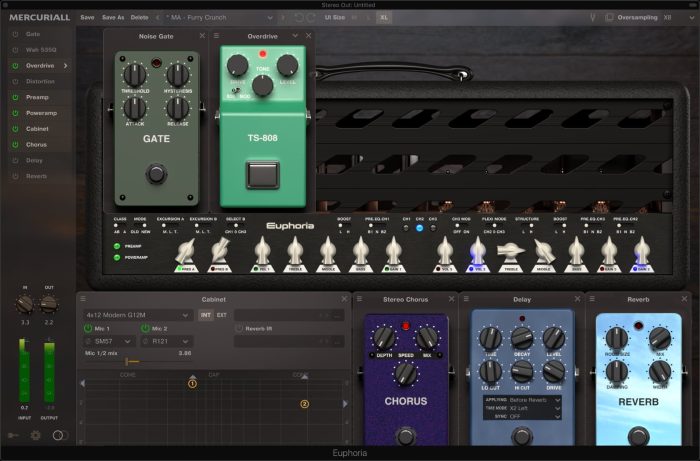 Ecstasy 101B is one of the most versatile and expensive guitar amps with a wide selection of sounds: from crystal clean Fender, to the edge of breakup VOX, overdriven Marshall, and thick Hi-Gain. Indeed, it's one of the most desirable guitar amplifiers.

Create sounds with no barriers. There are 12 poweramp settings and even more preamp switches at your disposal. It will allow you to create the exact tone you are looking for and integrate it naturally into your style of music. No compromises.

Additionally, we've developed a modern and user-friendly graphical interface for Euphoria, with an intent of making it a platform for future product unification.
Euphoria features
Modeling based on Bogner Ecstasy 101B using our custom technology – Neural Hybrid Engine v1.5.
Factory Cameron mod switch.
2D cab based on Redwirez IRs with realistic and smooth positioning of up to two microphones simultaneously.
New interface philosophy, intended for future plugin unification.
Freely movable module windows inside the plugin.
Preamp and poweramp can be switched off independently.
Pedals, preamp and power amp are working within the same oversampling cycle. Thus, there is no latency build-up and no additional losses when using several anti-aliasing filters.
Stereo-mode: right and left channels are modeled independently. This mode is useful for processing stereo signals. For example, a panned double tracked guitar.
Delay and reverb can be used in parallel to get a more expressive effect without extra routing.
Plugin supports CPU multi-threading.
Standalone version.
Euphoria comes in VST/VST3, AU and AAX plugin formats. It is available at an intro price of $89.99 USD until March 24th, 2020 (regular $99.99 USD).
Owners of Spark, ReAxis, U530 or SS-11X can purchase the new plugin for $79.99 USD.
More information: Mercuriall Audio