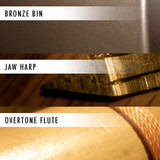 Microhammer has announced the release of the Microhammer March 2010 Bundle, a collection of three new instruments for Kontakt.
Microhammer is launching a series of new products around 15th of every month. All monthly releases will be followed by a bundle containing all the products at a highly favorable rate, so you can get it all. The bundle is only valid until our next release, so grab it while you can. We are proud to announce our second launch bundle, which consists of all the Microhammer March titles.
Microhammer March 2010 Bundle
Bronze Bin

— Bronze is the most popular metal used to create top-quality musical bells and cymbals. So, when we came across this little refuse receptacle of pure brazen bronze, we thought 'What a waste!' Not in the waste-basket sense of the word, but a waste of musical potential. Every edge, curve, face and angle of this bronze beauty creates amazingly complex and unique sounds, full of harmonics, overtones and even undertones. In much the same way art and practicality intersect in the conventional use of this bin, so do percussion and melody intersect creating an enormous palette from a single source. Producing soft bell-like tones to a raspy wash of colliding frequencies the Microhammer Bronze Bin is a truly unique tuned percussion instrument.

Jews Harp

— We recorded the Jew's Harp in-depth by recorded all the resonance layers and round-robin one could humanly get out of this wonder. In additional we did tons of more unique FX. But the most prominent part of the library is our fancy "word builder" for it … its actually cooler then a word builder … We sampled all letters in the alphabet (A-Z) and numbers (1-10) … But wait … THERE IS MORE … We also included the Danish letters æ, ø and å into the recordings, since there is a huge community of Scandinavian Jaw Harp composers eagerly awaiting this release.

Overtone Flute

— The Bamboo Overtone flute is like a little sibling to the Eastern European, Fujara. However the flute is distinctively different and almost human like in the sense it only has two holes. The flute is played by muting the bottom of the flute with your palm and bending the note. The overtones are generated by playing softer or harder in the flute and actually allows it to spand over four octaves. The sound is best described as ethnic/ethereal, but with that very distinct overtone charm to it. We sampled the hell out of it by multi-sampling the overtones in sustains and staccato and by doing over +350 BPM (80-140) based phrases on top of this – and with additional FX sections.
Format(s): Kontakt 3, SFZ and .wav
Note: Native Instruments Kontakt 3 / 4 full retail versions required.
Note: Free Kontakt Player will only work for 30 minutes with this product. Full version required to remove this restriction.
The Microhammer March 2010 Bundle is available to purchase for the introductory price of $59 USD until 15 April, 2010 (regular price $73 USD). The instruments are also available to purchase separately.
Visit Microhammer for more information.