audiowerkstatt has announced that its midi-restarter v2 is now available for sale.
The audiowerkstatt midi-restarter v2 helps you to start or stop your MIDI-slave independent of your MIDI-master, but always in perfect synchronization. It has all functions of the classic midi-restarter, but comes in a powder-coated steel enclosure and stores its settings.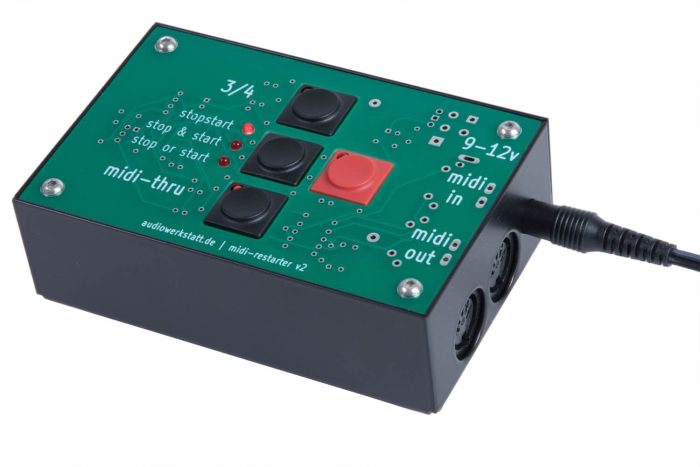 You push the buttom and the audiowerkstatt midi-restarter v2 sends a MIDI-start/stop-message at the beginning of the next bar to ensure that all following MIDI-devices run in the correct timing.
The unit comes with 3 modes of operation, and time signatures can be switched between 4/4 and 3/4. You can also set whether only the newly created MIDI-clock and the MMC commands (start, stop, continue) are sent or the MIDI-data, received at the MIDI-in, will be mixed with that.
All settings will be saved and restored at startup.
midi-restarter v2 is available for 169 EUR incl. 19% tax.
More information: audiowerkstatt