midierror has announced availability of Racheteer, a Max for Live device that generates MIDI note patterns working in sync with Ableton Live's transport with options for numerous time divisions and the ability to be performed using external MIDI controllers.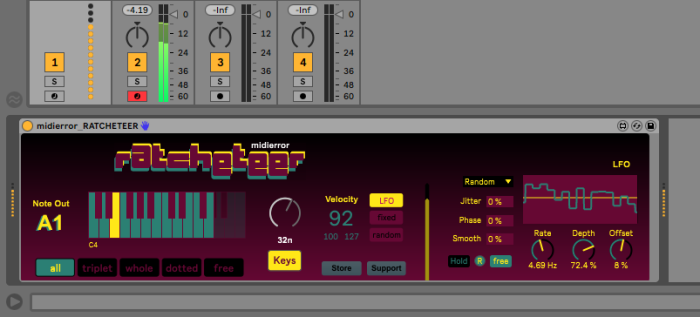 Assign a MIDI Note to ratchet and choose from 5 types of time division to hear the note re-triggered from a steady pace to rapid fire mayhem. Select an output velocity with fixed, random between a range or LFO controls.

Turn the knob or play your keyboard to play the ratcheteer at different speeds. It'll output expressive MIDI notes which can be recorded as clips and stored in your track.

The Ratcheteer is ideal for Trap Hi Hat patterns, but can be used on any drum or synth hits. It can also be used on multiple channels for entire rhythm track making.
Racheteer costs £17.50 GBP. It requires Ableton Live 10 Suite.
More information: midierror