Midierror has announced availability of the a brand new bit-crusher pedal inspired by the tonal qualities of vintage samplers, MPCs and the love of lo-fi sounds.
8BitM8 comes hand made in a rugged metal enclosure packed with high quality components which include a genuine arcade button.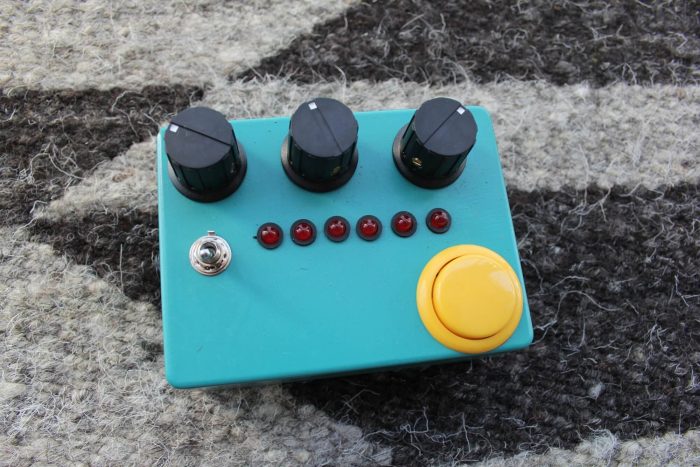 Hardware bit crushers are hard to come by and are often simply 'sample rate reducers' without any effect on the number of bits. The 8BitM8 is a fully digital bit crusher with settings for 4, 6 and 8-Bit – meaning the sounds of early samplers, lofi keyboards and digital effect units at your fingertips.

The 8BitM8 processes sounds using an 8-Bit AVR Microcontroller, sampling the input signal from the pre-amplifier at high speed, going to the DAC at an adjustable interval set by the RATE knob. Prepare for a heady audio spectrum spanning subtle glitchy overtones to supercharged distortion, with a WET/DRY MIX knob to set how much of the signal is processed.

A simple LOW PASS FILTER is available for the wet signal to swoop from sparkly brightness to low end warbles. The LEDs reflect the outputted audio rate, and provide a snazzy representation of the processed audio, be it smooth and musical or edgy and raw!

The pedal has true bypass, controlled and engaged by a relay which is triggered by the arcade button; a genuine arcade cabinet component built to withstand extreme button bashing. It functions as a momentary switch or as toggle by simply pushing the button during power on or not. This gives you the chance to create quick staccato chops or engage the crusher for a more sustained period.
The 8BitM8 is available in a hard-wearing metal enclosure spray painted and varnished to order with a myriad of arcade button colours to choose from. It is priced $185 USD ex. shipping.
More information: Midierror